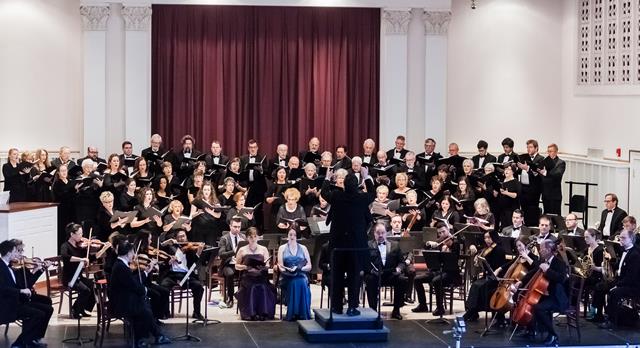 Feel the excitement of singing in a high-quality performance with an orchestra!
Share the thrill of ensemble singing and inspire others through moving music.
Learn more about our unique experience and singer auditions.
Elmhurst Choral Union promises singers
Opportunity: You'll perform with a professional orchestra, a rare experience not to be missed and impossible to imitate.
Challenge: Enhance your vocal technique and musical skills. Bolstered by your fellow singers, you'll work hard, take risks and have fun!
Encouragement: If you want to learn more about music theory or refine your home rehearsal methods, we have tools for you.
Camaraderie: You'll be part of a singing family of diverse ages and backgrounds; sharing interests, learning from each other and growing as musicians together.
Singer Auditions
Membership is open to Chicago area singers with previous choral experience and/or the ability to read music. All voice parts are welcome.
If auditions are in-person (and someday they will be), you will have a brief, low-key audition with our friendly director to determine vocal strength and range.  Please be prepared to vocalize and sing one prepared song (in any language) or The Star-Spangled Banner.
We have not yet set a date for our next singer auditions.  If you join our email list, you'll be the first to know.
Rehearsals
Elmhurst Choral Union rehearses on Tuesday evenings from 7:00 to 9:30 p.m., (usually!) in Irion Hall, room 200 at Elmhurst University. To see a PDF of the campus, click here. 
There is on-campus parking (a nice big lot on the north side of Alexander Boulevard), but it's not right next to Irion Hall, so plan an extra five minutes to walk to the building.
During the final week before a performance, we hold a Saturday rehearsal in beautiful Hammerschmidt Chapel. Major concerts are held in Hammerschmidt Chapel at 3:00 pm on a Sunday (early December and late April).
Membership Requirements: To maintain a high quality performance with professional orchestra and soloists, members are financially responsible for 5 tickets to each concert and also pay an annual membership fee. You will need to purchase a copy of the score, available at rehearsals. Contact us if you have questions.
Come sing with us!
Visitors are always welcome.
Irion Hall, Room 200
Elmhurst University
190 Prospect Avenue
Elmhurst, IL 60126